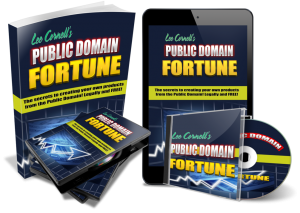 Well, I finally feel as if I'm close to the finish line with my new product, "Public Domain Fortune."
I have my eBook completed, the lesson videos are done with the exception of adding my voice over to the lesson slides, and I have all of my bonus content created and branded. The membership site just needs populated with the content and then the next step is in getting assistance with writing my sales page, setting up affiliates, tracking payments and such.
There will be a learning curve there as well, but now that I am so close to having the actual product created, I feel the momentum to get this thing launched. I feel it's a really good product and am confident it will do well with sales.
Back to my computer to keep plugging away. I found that when I got in the frame of mind to keep doing something, anything, every day and not do things like "I'll work on this again on the weekend. I'm too busy during the week" that I was able to make a lot of progress even if I could only work an hour in the evenings after work and taking care of family commitments.
If you are working on a product. Stay with it. Keep moving the ball down the field. You'll get there!
Until next time.
Best,
Lee